Motherhood in style!
Complete your look with a high-quality Savacci bag! Now you can put together comfort and functionality. With an organizer included in every bag the travel will be easier for every mother.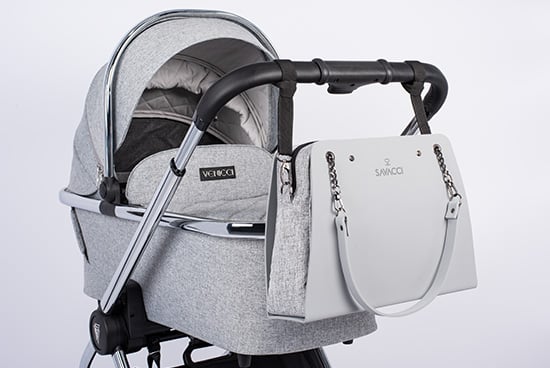 Attach your bag to your pram with ease!
Using special clips, SAVACCI bags can be easily mounted on the handle of your Venicci pram. Sleek and minimalist designs give our bags a contemporary, elegant look.Depending on your preferences, you can wear your SAVACCI bag as a tote, but also due to a long, detachable strap as a shoulder or a crossbody bag.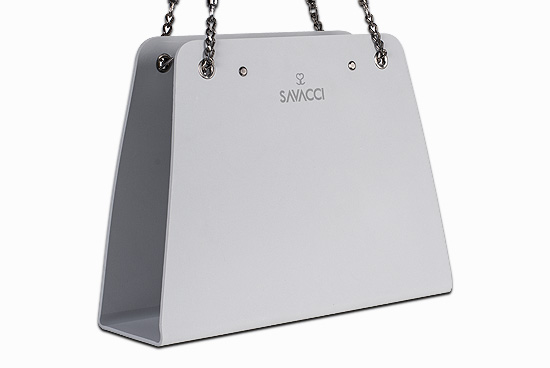 It's all in the details
The bags are made from eco-friendly, waterproof EVA Foam. The detachable organizer inside the bag is made of lightweight, waterproof materials.
Care Instructions
In order to remove any dirt from the SAVACCI Elite Bag, please use a soft cloth, soaked in water and soap and gently wash the surface. Do not use any powerful cleaning detergents to avoid discolouration/deformation of the product.
To remove/reduce the appearance of any marks on the surface of the EVA foam, use a hairdryer and by applying medium heat on the surface of the bag any marks will immediately disappear.
EVA foam bags should NOT be:
Cleaned with detergents that contain petroleum and gasoline as this type of maintenance and care may damage the top layer of the bag
Cleaned with sharp objects and rough sponges to avoid damage of the material
Dried at high temperatures
Dried in full sun to avoid deformation
ORGANIZERS care:
Wash by hand (Max. water temperature 30C °) using a non-bleach gentle detergent.
Air dry only
DO NOT use a tumble dryer
We create our bags from unique, high quality and environmentally friendly materials which are a great alternative for natural leather.
How to store SAVACCI Elite Bags:
At temperatures from -15C ° to + 30C °
Humidity at 65 + 15%
Keep at least 1 meter away from heat-producing equipment
Avoid exposure to direct sunlight for a long period of time
In order to maintain the impeccable beauty of our products, we recommend that you follow the information provided regarding the correct care and storage.
Why do we use EVA foam?
Cruelty-Free – No animals are harmed during the manufacturing process
Safe for the environment (It also meets all EU Standards and has EU Certificates).
Alternative for natural leather, due to its quality, features and qualities, such as:
Durability
Water-Resistant
UV Light and Ozone Resistant
Self-regenerates using heat, e.g., hairdryer.
Neutral Smell
Dimensions
Detachable and adjustable shoulder strap (110cm long)
Two detachable chain handles
Nylon lining
One zipped compartment and two-piece pockets inside the bag
Metal hardware
Zipper Closure
Height: 26 cm
Length: 35 cm
Width: 11 cm
Finding it hard to pick what's best for your little one? We are always happy to help you. Book an appointment and visit our store for a complete experience. We are looking forward to see you!
Store Opening Times
Monday - Friday
11:00 - 17:00
Saturday
11:00 - 16:00
Sunday
Closed
Book An Appointment With Us Today
Most Asked Questions
Yes! At Designer Baby UK, we offer custom bundles to ensure you're well prepared for your beautiful journey ahead. Contact us for your custom bundle. Please send us a message on our live chat or drop an email & we'll respond right away.
Yes, we do deliver to Northern Ireland; however, additional charges may apply. Head over to the delivery section for more information. Thank you
Yes, we collaborate with the world's most prestigious brands to bring you the best products for your child. A manufacturer's warranty is included with all of our products.
Yes, we do provide custom payment plans. A custom payment plan requires a £500 minimum spend. Please contact us if you are interested in applying. Please send us an email or leave a message on live chat.
Yes, we offer a manufacturer's warranty on all of our products. Please get in touch.
×
Price Match + 15% Difference
Price Match + 15% Difference
Fill out the information below and we will do our best to match the price for you. Please note that we are unable to apply price match requests retrospectively to orders already placed.
Visit us in London
Address : 195 Old Oak Road, London, United Kingdom, W3 7HH
Store Opening Times : Monday to Friday - 10:00 - 18:00, Saturday - 10:00 - 17:00, Sunday - Closed