The new generation KIDFIX i-SIZE has been developed in partnership with leading car manufacturers, to give the ultimate car travel safety to your child. It's equipped with the proven technologies of XP-PAD and SecureGuard for frontal impact protection, whilst the new design SICT protects your child from side collisions. Carefully placed air ventilation holes aid air circulation to keep your child comfortable for longer.
* Safest KIDFIX to date during internal tests, Britax Römer 2021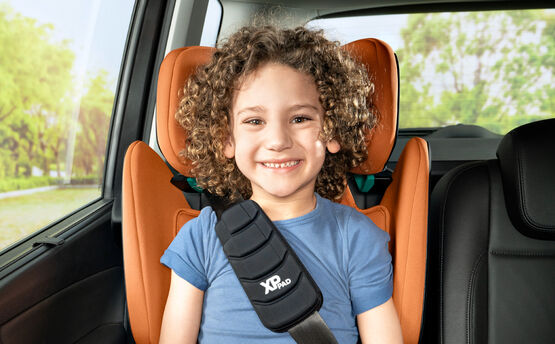 Expert protection
The new KIDFIX i-SIZE has been designed and approved to the new i-Size standard, making it our safest KIDFIX* to date. Every feature on the seat has been developed with one thing in mind - maximum protection. The proven technologies of XP-PAD, SICT and SecureGuard, now combined with the redesigned seating area for optimum crash performance, offer all-round protection.
* Safest KIDFIX to date during internal tests, Britax Römer 2021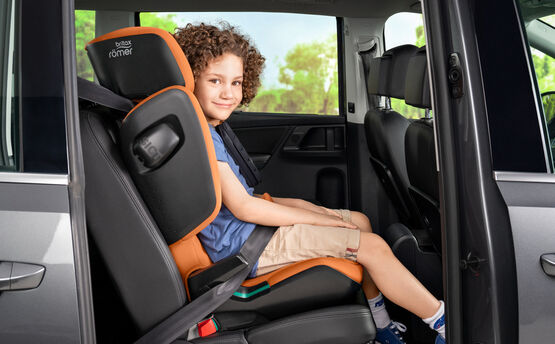 Comfort and practicality at its core
Comfort and practicality come as standard with the KIDFIX i-SIZE. The generously padded soft fabric covers and carefully placed air ventilation holes on the shell ensure your child travels in comfort for longer. The slim design of the seat allows for three KIDFIX i-SIZE seats to be installed in the back row of a wide range of cars, whilst the headrest markings help the parents find the right headrest height every single time.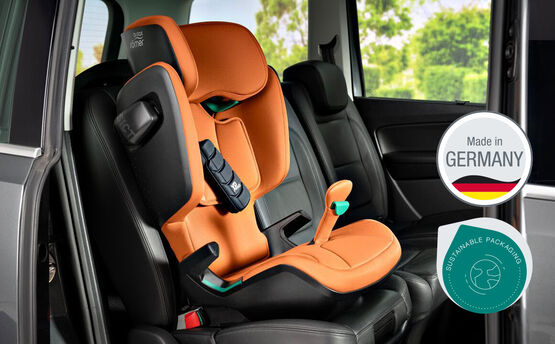 Sustainable Quality – caring for the world our children grow up in
The cleverly engineered KIDFIX i-SIZE weighs around 1.3 kg lighter than its predecessor, and is designed and made in our factory in Germany – helping with shorter transport routes and minimising the impact on the environment. We've also replaced our packaging with sustainable options: you'll find the KIDFIX i-SIZE packed in plant-based bags and recycled cartons from responsible sources. Even the mighty swift tags we use to attach product information are biodegradable on soil, resulting in no microplastics entering the ecosystem.
Our highback boosters protect your child in 3 ways: the seat shell provides head to hip protection for your child, especially in the event of a side impact; the upper and lower belt guides provide correct positioning of the seat belt; and the padded headrest provides safety and comfort for your child's head and neck.
Working in close partnership with leading car manufacturers, the seating area has been redesigned to help reduce the neck loads by up to 10%. *
* Britax Römer internal tests with a Q10 dummy, representing an average 10 year old child
Despite good planning and careful driving, you can never prepare for a collision. To protect your child's sensitive neck area in case of a frontal impact, Britax Römer has developed a shock-absorbing foam pad. It prevents the impact of your child's chin on their chest, absorbing up to 30% * of the energy. A jerky forward head movement is reduced and the neck is protected. At the same time it provides additional padding around the edges of the seat belt.
*Britax Römer tests 2019
Specifications
Weight: 7.4 kg
Height: 63 – 83 cm
Width: 48 cm
Depth: 42 cm
Dimensions (H x W x D): 63 – 83 x 48 x 43 cm
Finding it hard to pick what's best for your little one? We are always happy to help you. Book an appointment and visit our store for a complete experience. We are looking forward to see you!
Store Opening Times
Monday - Friday
11:00 - 17:00
Saturday
11:00 - 16:00
Sunday
Closed
Book An Appointment With Us Today
Most Asked Questions
Yes! At Designer Baby UK, we offer custom bundles to ensure you're well prepared for your beautiful journey ahead. Contact us for your custom bundle. Please send us a message on our live chat or drop an email & we'll respond right away.
Yes, we do deliver to Northern Ireland; however, additional charges may apply. Head over to the delivery section for more information. Thank you
Yes, we collaborate with the world's most prestigious brands to bring you the best products for your child. A manufacturer's warranty is included with all of our products.
Yes, we do provide custom payment plans. A custom payment plan requires a £500 minimum spend. Please contact us if you are interested in applying. Please send us an email or leave a message on live chat.
Yes, we offer a manufacturer's warranty on all of our products. Please get in touch.
×
Price Match + 15% Difference
Price Match + 15% Difference
Fill out the information below and we will do our best to match the price for you. Please note that we are unable to apply price match requests retrospectively to orders already placed.
Visit us in London
Address : 25 Lower Clapton Road, London E5 0NS
Store Opening Times : Monday to Friday - 09:30 - 17:30, Saturday - 10:30 - 17:00, Sunday - Closed