Wow! The B-AGILE M with its slim design is perfect for everyday trips. The clever one-handed fold and compact size make handling a breeze when you're on the go. Plus, the softly padded lie-flat seat means excellent comfort for your child.
What's included?
Bumper Bar, Raincover, Cup holder
Highlights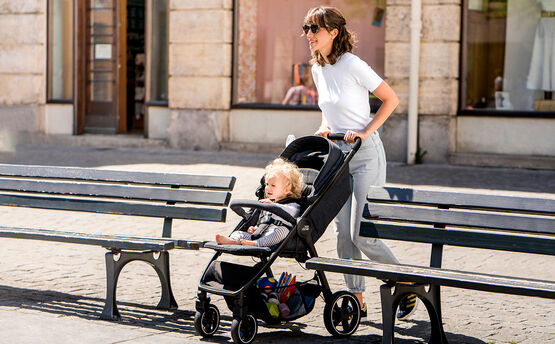 Explore with ease
At just 55.5 cm wide, B-AGILE M is super-slim and effortless to manoeuvre – perfect for your daily adventures. With its clever, one-handed fold you get a compact, freestanding buggy that's easy to handle and stow.
Enjoy the comfort
B-AGILE M's spacious, lie-flat seat with adjustable backrest and calf support ensures great comfort. The one-handed backrest adjustment means you can easily recline it without disturbing your child.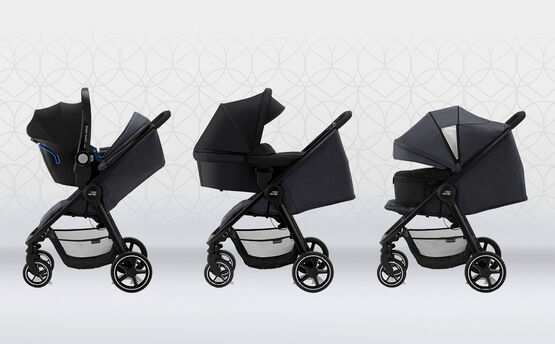 Every day flexibility
Your B-AGILE M can be adapted to your needs from the very first day. The seat is compatible with a soft carrycot, or you can attach an infant carrier or carrycot with optional adapters.
Features
The sliding mechanism allows you to easily adjust the harness even when your child is sitting in the pushchair, without having to undo or disturb the harness. Plus, the softly padded chest pads provide additional comfort.
The cup holder easily fits onto either side of the pushchair so you can keep a drink for you or your child at hand while you're on the go. It keeps the drink upright, preventing spills and allowing you to keep your hands free.
The raincover offers protection for your child from the wind and rain while travelling in their pushchair. Easy to attach, it features ventilation holes for better air circulation and a window for quick and easy access to your child.
There's nothing like taking a nice, relaxing stroll in the sun. With the large hood with integrated sun visor and UPF 50+ sun protection, you'll be sure to provide protective shade for your little passenger. The hood also features ventilation windows for those extra hot days.
With our one-handed pull fold mechanism you can quickly and easily fold your pushchair, leaving your other arm free to hold your child. The automatic fold lock ensures it remains locked until you want to use it again. And because it's freestanding when folded, the fabric stays clear of the dirty ground.
The adjustable backrest and calf support offer a range of positions that range from a lie-flat position for a newborn, to customisable seating positions for a resting toddler. Whether they're sleeping soundly or sitting up, you'll easily be able to keep them comfortable.
Specifications
Pushchair folded (with seat unit and wheels) (H x W x D)
69 x 55,5 x 36 cm
Seat unit length reclined
86,50 cm
Seating area (W x D)
35 x 22,5 cm
Maximum weight capacity
28,50 kg
Maximum child weight
22 kg
Maximum weight in basket
4 kg
Maximum weight in pushchair organiser
2 kg
WARNING! This product is not suitable for running and skating
This pushchair is suitable for children from birth up to a weight of 22 kg or 4 years, whichever comes first.
Finding it hard to pick what's best for your little one? We are always happy to help you. Book an appointment and visit our store for a complete experience. We are looking forward to see you!
Store Opening Times
Monday - Friday
11:00 - 17:00
Saturday
11:00 - 16:00
Sunday
Closed
Book An Appointment With Us Today
Most Asked Questions
Yes! At Designer Baby UK, we offer custom bundles to ensure you're well prepared for your beautiful journey ahead. Contact us for your custom bundle. Please send us a message on our live chat or drop an email & we'll respond right away.
Yes, we do deliver to Northern Ireland; however, additional charges may apply. Head over to the delivery section for more information. Thank you
Yes, we collaborate with the world's most prestigious brands to bring you the best products for your child. A manufacturer's warranty is included with all of our products.
Yes, we do provide custom payment plans. A custom payment plan requires a £500 minimum spend. Please contact us if you are interested in applying. Please send us an email or leave a message on live chat.
Yes, we offer a manufacturer's warranty on all of our products. Please get in touch.
×
Price Match + 15% Difference
Price Match + 15% Difference
Fill out the information below and we will do our best to match the price for you. Please note that we are unable to apply price match requests retrospectively to orders already placed.
Visit us in London
Address : 195 Old Oak Road, London, United Kingdom, W3 7HH
Store Opening Times : Monday to Friday - 10:00 - 18:00, Saturday - 10:00 - 17:00, Sunday - Closed