Pushchair + carrycot + BABY-SAFE 3 i-SIZE SMILE Car Seat
The Comfort Bundle is a three-piece travel system including the brand-new BABY-SAFE 3 i-SIZE. The BABY-SAFE 3 i-SIZE can easily be taken out of the car and attached directly onto the pushchair chassis* with one simple click. The Comfort Bundle also includes the ergonomic SMILE III carrycot and SMILE III pushchair with seat unit. While the SMILE III carrycot offers a protected and comfortable flat lying position for your baby, the SMILE III pushchair with dual suspension provides a smooth and undisturbed ride on any terrain.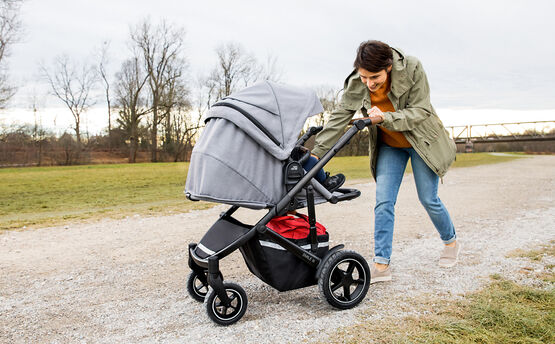 SMILE III pushchair
The SMILE III is bringing you and your baby the ultimate travel solution for comfort and safety. You can swiftly change from pram to pushchair, whilst the super-slim frame lends maximum manoeuvrability – perfect for urban living. Its superior suspension and air-filled tyres ensure the most comfortable ride, for both parent and child.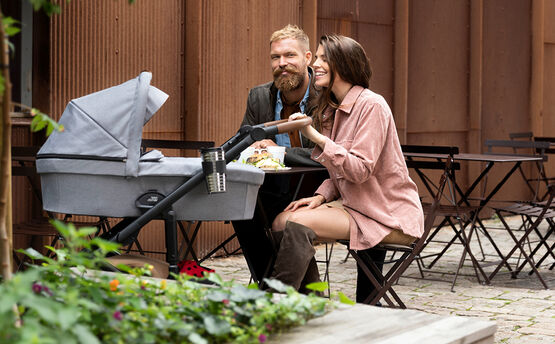 SMILE III carrycot
For the first months of your baby's life a carrycot is the best and healthiest choice when you take long strolls, because it offers your little one a complete lie-flat position. The SMILE III Carrycot with its soft touch and grip fits perfectly on your SMILE III pushchair. Providing plenty of room for your baby to grow until they are ready to move to the seat unit it provides a padded environment, and thanks to the generous hood and apron your baby will be safe and protected at all times.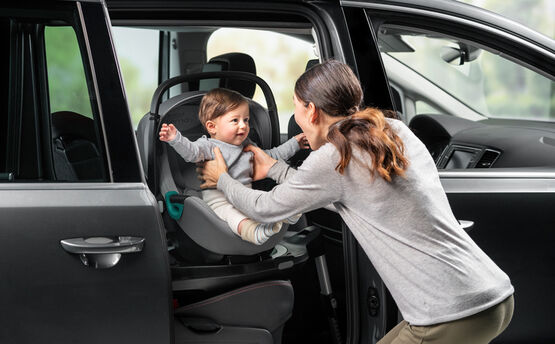 BABY-SAFE 3 i-SIZE infant car seat
The BABY-SAFE 3 i-SIZE can be used from birth up to 15 months and provides cosy comfort at all times. The newborn insert ensures ergonomic safety for the newborn babies, while the patented integral lie-flat recline mechanism provides the most ergonomic position according to your baby's height, and the headrest can be adjusted to allow for more space as your baby grows.
We believe a 5-point harness is the safest way to secure your child in a car seat because it keeps your child safe and tight in the seat's protective shell. In the event of a collision, the harness distributes the forces of the impact across 5 points, two at the shoulders, two at the hips and one where the harness buckles between the legs. This helps to protect your child from all directions of impact.
The centrally positioned chassis suspension and front wheel suspension provide a smooth ride on any terrain. So whether it's cobbled streets or country lanes, nothing will disturb your little one from sleeping soundly.
The rotating feature of the base allows you to turn the infant carrier to the open car door, making it easy to remove you baby from the seat and put them into the carrycot on the pushchair for longer walks or simply back into the house.
Finding it hard to pick what's best for your little one? We are always happy to help you. Book an appointment and visit our store for a complete experience. We are looking forward to see you!
Store Opening Times
Monday - Friday
11:00 - 17:00
Saturday
11:00 - 16:00
Sunday
Closed
Book An Appointment With Us Today
Most Asked Questions
Yes! At Designer Baby UK, we offer custom bundles to ensure you're well prepared for your beautiful journey ahead. Contact us for your custom bundle. Please send us a message on our live chat or drop an email & we'll respond right away.
Yes, we do deliver to Northern Ireland; however, additional charges may apply. Head over to the delivery section for more information. Thank you
Yes, we collaborate with the world's most prestigious brands to bring you the best products for your child. A manufacturer's warranty is included with all of our products.
Yes, we do provide custom payment plans. A custom payment plan requires a £500 minimum spend. Please contact us if you are interested in applying. Please send us an email or leave a message on live chat.
Yes, we offer a manufacturer's warranty on all of our products. Please get in touch.
×
Price Match + 15% Difference
Price Match + 15% Difference
Fill out the information below and we will do our best to match the price for you. Please note that we are unable to apply price match requests retrospectively to orders already placed.
Visit us in London
Address : 25 Lower Clapton Road, London E5 0NS
Store Opening Times : Monday to Friday - 09:30 - 17:30, Saturday - 10:30 - 17:00, Sunday - Closed