With the FLEX BASE iSENSE, you are ready for four years of convenient safety on theroad. The modular base is compatible with the
BABY-SAFE iSENSE, the newBABY-SAFE 3 i-SIZE as well as theDUALFIX iSENSE – and each of them can be installed on the base with just one click. The rotating feature allows you to turn each seat towards the car door, making it easy to place and harness your child. Additionally, the DUALFIX seats can be turned 360 degrees, allowing forward-facing travel when your child exceeds 15 months and 76 cm.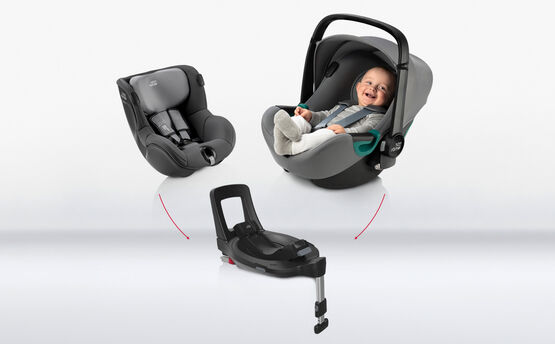 Modular comfort and convenience
The modular base fits theBABY-SAFE iSENSE andDUALFIX iSENSE as well as theBABY-SAFE 3 i-SIZE and accompanies your little one from the first ride home up until four years old. The seats can easily be removed and installed with just one click. The easily accessible release button allows you to effortlessly pick up the infant carrier on the handle. Plus, the adjustable rebound bar provides additional leg space when travelling rearward facing.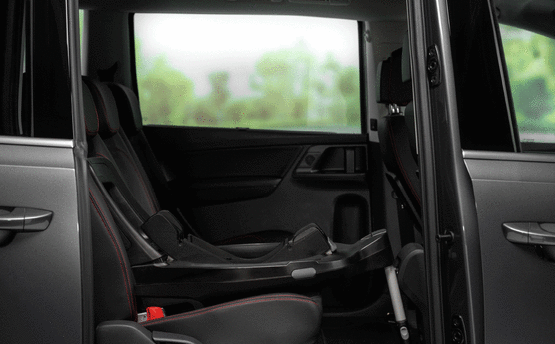 Always set for cosiness
In cars with inclined vehicle seats, your child's head might tip forward when harnessed in the seat. That's why the FLEX BASE iSENSE can be adjusted to six different positions to provide the best combination of safety and comfort for your little one. With the infant carriers it's best set the correct angle before installing the seat and with theDUALFIX iSENSE you can adjust the angle on the go to a more comfortable position when your toddler falls asleep.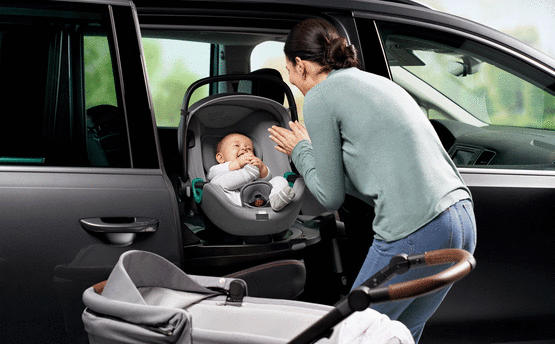 Turn for easy access – the rotatable base
All compatible seats for the FLEX BASE iSENSE can be turned towards the open car door so you can place and harness your child with ease. Whilst we recommend keeping your child rearward facing for as long as possible, you can easily rotate the base 360 degrees for yourDUALFIX iSENSE for forward travel once your child exceeds 15 months and 76 cm.
The ISOFIX ratchet system allows the ISOFIX arms to extend so you can easily fit or remove the infant carrier base from the ISOFIX anchorage points in the car. Once the ISOFIX connectors are engaged, push the base until it touches the back of the vehicle seat. This prevents the infant carrier from lifting upwards in case of an impact.
We know that parents of young children have lots of baby items to store so we have designed the infant carrier base with convenient storage in mind. The support leg folds up so you can easily pack it away in your car's boot or at home. By folding the leg under the seat this also deactivates the security beep from the support leg to provide a peaceful storage solution.
The rebound bar not only helps to prevent the child car seat from tilting in an impact, but can also be adjusted by an entire 8 degrees. This allows you to easily adjust the rebound bar to the backrest of the vehicle seat and gives your child 10% of additional leg space.
Finding it hard to pick what's best for your little one? We are always happy to help you. Book an appointment and visit our store for a complete experience. We are looking forward to see you!
Store Opening Times
Monday - Friday
11:00 - 17:00
Saturday
11:00 - 16:00
Sunday
Closed
Book An Appointment With Us Today
Most Asked Questions
Yes! At Designer Baby UK, we offer custom bundles to ensure you're well prepared for your beautiful journey ahead. Contact us for your custom bundle. Please send us a message on our live chat or drop an email & we'll respond right away.
Yes, we do deliver to Northern Ireland; however, additional charges may apply. Head over to the delivery section for more information. Thank you
Yes, we collaborate with the world's most prestigious brands to bring you the best products for your child. A manufacturer's warranty is included with all of our products.
Yes, we do provide custom payment plans. A custom payment plan requires a £500 minimum spend. Please contact us if you are interested in applying. Please send us an email or leave a message on live chat.
Yes, we offer a manufacturer's warranty on all of our products. Please get in touch.
×
Price Match + 15% Difference
Price Match + 15% Difference
Fill out the information below and we will do our best to match the price for you. Please note that we are unable to apply price match requests retrospectively to orders already placed.
Visit us in London
Address : 25 Lower Clapton Road, London E5 0NS
Store Opening Times : Monday to Friday - 09:30 - 17:30, Saturday - 10:30 - 17:00, Sunday - Closed