The KIDFIX SL is a highback booster seat with flexible installation options to suit any vehicle – from the innovative soft-latch connectors to the car's 3-point seat belt. Enabling easy transfer and installation of the seat to meet the needs of the busiest lifestyle.
Good to know: The KIDFIX SL has been tested by ADAC (ADAC Motorwelt 11/2015) with a rating of "GOOD" and a grade of 1.8.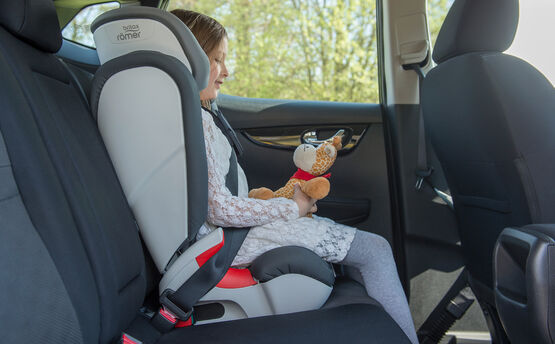 Large side wings for comfort and safety
Offering an additional level of protection, KIDFIX SL is a highback booster seat with deep, softly padded side wings that are designed to give the comfort and safety that older children need when they are travelling. It provides head-to-hip protection for your child and ensures that every journey is safe.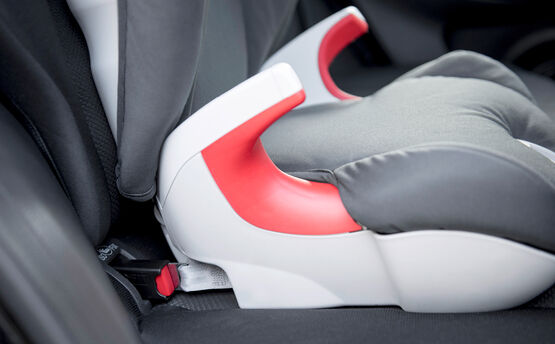 Easy installation and comfort
Quickly and simply installed using the car's ISOFIX anchorage points, KIDFIX SL is permanently attached to the vehicle even when there's no child in the seat. And thanks to its soft-latch connectors that attach individually, finding and securing the anchorage points is easier. The seat belt guides automatically adjust as you change the height of the headrest so that the seat belt is always correctly positioned to provide the correct fit for your child. As your child grows and their shoulders get wider, the V-shaped backrest ensures a comfortable fit throughout.
Designed to give optimum support to your growing child, the V-shaped backrest provides more space for their back and shoulders. Plus, the adjustable backrest allows you to match the angle of the vehicle seat, providing a better fit and a comfortable position for your child.
Our highback boosters protect your child in 3 ways: the seat shell provides head to hip protection for your child, especially in the event of a side impact; the upper and lower belt guides provide correct positioning of the seat belt; and the padded headrest provides safety and comfort for your child's head and neck.
Our headrest is designed especially for older children, when using the 3-point seat belt to secure them in the car seat. It can easily be adjusted to the correct position, just above your child's shoulders, with one hand – even while they are sitting in the seat. Plus the headrest is ergonomically designed to support your child's head when they fall asleep.
Finding it hard to pick what's best for your little one? We are always happy to help you. Book an appointment and visit our store for a complete experience. We are looking forward to see you!
Store Opening Times
Monday - Friday
11:00 - 17:00
Saturday
11:00 - 16:00
Sunday
Closed
Book An Appointment With Us Today
Most Asked Questions
Yes! At Designer Baby UK, we offer custom bundles to ensure you're well prepared for your beautiful journey ahead. Contact us for your custom bundle. Please send us a message on our live chat or drop an email & we'll respond right away.
Yes, we do deliver to Northern Ireland; however, additional charges may apply. Head over to the delivery section for more information. Thank you
Yes, we collaborate with the world's most prestigious brands to bring you the best products for your child. A manufacturer's warranty is included with all of our products.
Yes, we do provide custom payment plans. A custom payment plan requires a £500 minimum spend. Please contact us if you are interested in applying. Please send us an email or leave a message on live chat.
Yes, we offer a manufacturer's warranty on all of our products. Please get in touch.
×
Price Match + 15% Difference
Price Match + 15% Difference
Fill out the information below and we will do our best to match the price for you. Please note that we are unable to apply price match requests retrospectively to orders already placed.
Visit us in London
Address : 25 Lower Clapton Road, London E5 0NS
Store Opening Times : Monday to Friday - 09:30 - 17:30, Saturday - 10:30 - 17:00, Sunday - Closed