ADVANSAFIX IV R was developed so that children from 9 to 36 kg can travel safely and comfortably – ideal for every family. Thanks to the FLIP&GROW function, you can switch from the integrated 5-point harness to the 3-point seat belt as your child grows, with just a few simple steps. In addition, ADVANSAFIX IV R provides maximum flexibility and protection for all ages thanks to its advanced safety features.
Good to know: The ADVANSAFIX IV R has been tested by ADAC (ADAC Motorwelt 06/2019) with a rating of "GOOD" and a grade of 2.3.
Exceptionally safe – every day
The safety of every child is very important to us. Which is why ADVANSAFIX IV R offers advanced safety features to keep your child protected at every age. When you secure your child with the car's 3-point belt, the SecureGuard holds the lap belt in the optimal position over the pelvic bones, reducing the risk of abdominal injuries. Plus, the adjustable SICT and V-shaped headrest provide protection in the event of a side impact.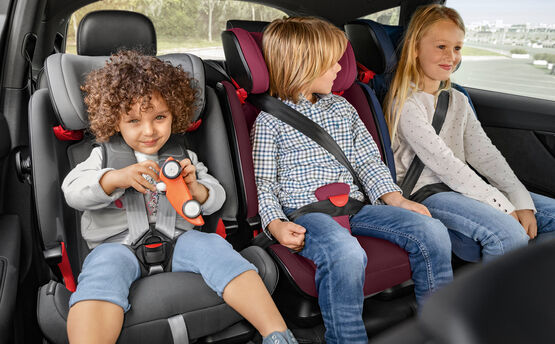 Extra comfort – for every family
With ADVANSAFIX IV R, growing up becomes even more fun! Thanks to the FLIP&GROW function, you can switch from the integrated harness to the car's 3-point seat belt once your child reaches 15 kg and up to a maximum of 18 kg – it's child's play! There's nothing to remove from the seat, so nothing can get lost, and it can be converted back at any time. The extra soft padding and EasyRecline with three adjustable recline positions, for toddler and child, ensure that they will be comfortable on every journey.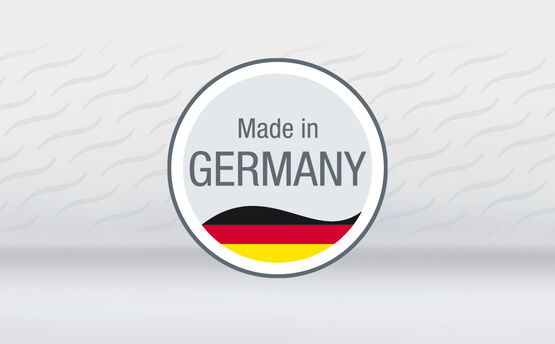 Quality – Made in Germany
Keeping all children safe is the engine that drives us every day. To guarantee the highest quality we keep the whole product development process under one roof – from the initial idea to the finished product. And we set our standards higher than those required by law and carry out regular tests for our car seats in our state-of-the-art crash test facility . That's how we ensure that your child's safety is always in the best hands.
EasyRecline is suitable for all ages and allows you to adjust the seat into comfortable recline positions, even when your child is in the seat and without having to re-adjust the Top Tether — total convenience for both the parent and the child.
In case of an impact, our patented Pivot Link ISOFIX System directs the force first downward (1), into the vehicle seat, and then forward (2), more gently – greatly reducing the risk of head and neck injury for your child.
We believe a 5-point harness is the safest way to secure your child in a car seat because it keeps your child safe and tight in the seat's protective shell. In the event of a collision, the harness distributes the forces of the impact across 5 points, two at the shoulders, two at the hips and one where the harness buckles between the legs. This helps to protect your child from all directions of impact.
Finding it hard to pick what's best for your little one? We are always happy to help you. Book an appointment and visit our store for a complete experience. We are looking forward to see you!
Store Opening Times
Monday - Friday
11:00 - 17:00
Saturday
11:00 - 16:00
Sunday
Closed
Book An Appointment With Us Today
Most Asked Questions
Yes! At Designer Baby UK, we offer custom bundles to ensure you're well prepared for your beautiful journey ahead. Contact us for your custom bundle. Please send us a message on our live chat or drop an email & we'll respond right away.
Yes, we do deliver to Northern Ireland; however, additional charges may apply. Head over to the delivery section for more information. Thank you
Yes, we collaborate with the world's most prestigious brands to bring you the best products for your child. A manufacturer's warranty is included with all of our products.
Yes, we do provide custom payment plans. A custom payment plan requires a £500 minimum spend. Please contact us if you are interested in applying. Please send us an email or leave a message on live chat.
Yes, we offer a manufacturer's warranty on all of our products. Please get in touch.
×
Price Match + 15% Difference
Price Match + 15% Difference
Fill out the information below and we will do our best to match the price for you. Please note that we are unable to apply price match requests retrospectively to orders already placed.
Visit us in London
Address : 195 Old Oak Road, London, United Kingdom, W3 7HH
Store Opening Times : Monday to Friday - 10:00 - 18:00, Saturday - 10:00 - 17:00, Sunday - Closed